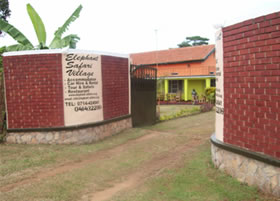 Located just 10 minutes drive from Entebbe International Airport, Elephant Safaris Village is a very quiet place and good for nature walks including forest walk in the Botanical gardens; a lot of bird species and monkeys which share breakfast and lunch with us. Our breakfast comprises of pure arabica coffee, fresh fruits; English breakfast on order and many more. Dont miss out on the lake view on our terrace and a walkable distance to Entebbe Wildlife Centre (Zoo).
Also suitable for: Cocktail parties, Get-together parties, Bridal dinners and Graduation parties
SERVICES
Accomodation
Meals
Airport Transfers
Venue for conferences, cocktail parties, get together, bridal dinners and graduation parties.
24 Hour Reception
FACILITIES
Bar
Restaurant
Parking
24 Hour Security
Laundry and Dry Cleaning
Luggage storage
ROOM RATES

Room type
Single Occupancy
Double Occupancy
Tripple
** Elephant Family Room
$ 50
$ 65
$ 75
** Leopard
$ 45
$ 50
$ 65
** Gorilla
$ 40
$ 50
** Shoe bill
$ 35
$ 45
$ 55
Note: All the above rates apply to per person and includes bed and breakfast..
You may also like:
Both comments and pings are currently closed.