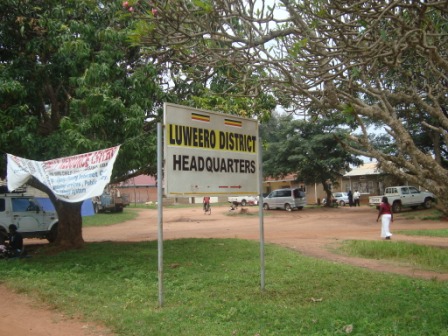 Location
The District Lies amid Latitude 2 Equator and 2 north, and between longitude 32 and 33 east. It is bordered byNakasongola Districts in the North, Mukono District in the East and Mpigi District in the South.
Luwero was the site of a brutal insurgency by the rebel National Resistance Army and a brutal counter-insurgency by the government of Milton Obote, known as "the guerilla  war", that left many thousands of people dead during the early to mid 1980s. The area affected by the war has come to be known as the Luwero triangle
Population
Luwero has a population of 474,000 (2002 population census). It has always been a sophisticated region with many people of different origins and ethnic backgrounds. Among them include the Baganda and these are the original inhabitants of the district. Other ethnic groups include Banyankole from Western Uganda, Banyarwanda, the Luo speakers and Nubians of Sudanese origin.
Infrastructure
Luwero district has a well-developed road network with murram roads and a tarmac road connecting it to the northern region. The District has a consistent supply of hydro electricity, piped water and other sources of water.
Education
Education is one of the major priorities in Luwero district. The District Education Department targets training of the entire community through several programs. These include the government's Universal Primary Education (UPE) for primary school-going children, pre-primary school training, tertiary and vocational training, college and university training. The overall objective is to create a developmental, literate society.
The district has made many achievements in as far as development of education is concerned. This has been possible due to the good government policies that have ensured peace in the area. Among the achievements is the successful implementation the UPE program.
Administrative divisions
The District is presently composed of three counties, namely; Nakaseke, Bamunanika, and Katikamu. Each County is further divided into 5-6 Sub counties making a total of 17 Sub counties and 134 parishes.
The District has three Town Councils namely; Luwero, Wobulenzi and Bombo Town Councils.
Health
Since the end of the Bush war of 1981-1986 that destroyed the area, many people lost their properties and relatives and those who survived were weak and susceptible to disease. Therefore the Government put in place the procedures to access medical services in the district by constructing hospitals and supply them with drugs and also building dispensaries. Presently, Luwero district has a total of 75 health facilities with 3 hospitals, 9 health centers and 17 dispensaries.
Agriculture
Agriculture is the major economic activity of Luwero district and consumes over 85% of the work force in the district. It involves both crop and animal husbandry. Livestock is common in the northern areas of Luwero particularly in Ngoma County, while subsistence agriculture and commercial horticultural farming is undertaken in the southern parts of Luwero including Wobulenzi, Nakaseke, Bombo and Bamunanika. The agriculture products include bananas, potatoes, honey, fruits, cassava, maize and horticulture whereas livestock products include beef and diary products.
You may also like:
Both comments and pings are currently closed.