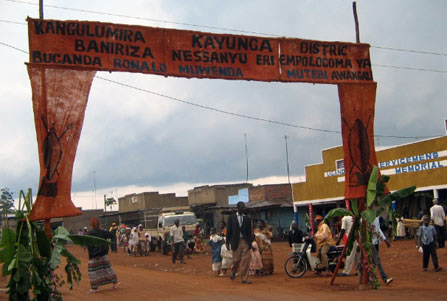 At Independence in 1962, Mpigi was part of Buganda Kingdom. Following the abolition of kingdoms in 1967, Buganda was divided into 4 districts-East Mengo, West Mengo, Mubende and Masaka districts.
Under the 1974 provincial Administration, West Mengo became Mengo District, which in 1980 became Mpigi District. In 2000, Busiro and Kyadondo counties and Entebbe Municipality were separated from it to create Wakiso District.
Location
Mpigi boarders the districts of Mubende in the North, Wakiso in the East, Kalangala and Masaka in the South and Sembabule in the West. The main language is Luganda.
Population
The district has over 414,757 people, 206,012 of which are females and 208,745 are males.
Economic activities
The major economic activity in Mpigi district is Agriculture with food crops like Sweet potatoes, Beans, Cassava, Maize, Bananas, ground nuts etc. Cash crops include coffee and cotton. More so fruits and vegetables like Tomatoes, Onions and cabbage are grown in the Mpigi.
Education services
It has a total of 324 primary schools with 246 government, 57 private and 21 community schools. For secondary schools, the district has over 37 schools, 16 are government, 10 private and 11 community.
It also has 3 technical institutions, 3 teacher training colleges and Uganda Martyrs University Nkozi.
Health services
It has 17 Government dispensaries (II), 13 Government health centres (III), 4 private dispensaries, 24 clinics. It also has a Government hospital in Gombe with 104 beds and Entebbe Hospital with 147 beds. Uganda catholic Medical Bureau Kisubi with 74 beds and Nkozi hospital with 90 beds.
Tourist Attractions
Mpanga Forest Reserve is an hour's drive from Kampala. This is excellent for a day trip an the main attractions are; mighty trees with the knotted roots, monkeys, birds, butterflies, snakes though some are dangerous,.
You may also like:
Both comments and pings are currently closed.