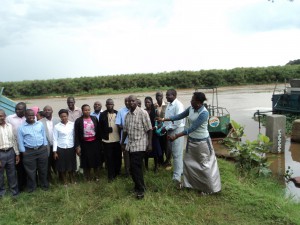 Created n 1980, Rakai district comprises of four former counties of Masaka district established in 19867, when Buganda Kingdom was sub-divided into districts. The main language is Luganda.
Location
Rakai boarders the districts of Masaka in the North and north east, Mbarara in the West and north-west and the republic of Tanzania in the south.
Population
It has a population of 471,806 people, 239,544 of which are females and 232,262 males.
Economic activities
Agriculture is one of the major activities with emphasis on Food crops such as Cassava, Maize, sweet potatoes, Sorghum, Bananas and finger millet.
Cash crops include Coffee. Fruits and vegetables like tomatoes, pineapples, onions and cabbage. There is also cattle keeping.
Banks
There is Stanbic Bank Uganda Ltd and centenary Bank Ltd.
Education services
The district has a total of 302 primary schools with 259 government, 40 private and 3 community schools. For secondary schools, the district has over 43 schools, 19 are government, 9 private and 15 community. It also has 1 Technical Institution and 1 Teacher training college.
Health services
The district has 41 Government dispensaries (II), 21 health centres (III), 2 health centres (IV) and 2 hospitals. More so, it has 37 private/NGO dispensaries, 28 clinics and 1 health centre. There is a Government Hospital with 60 beds, and Kalisizo with 60 beds.
You may also like:
Both comments and pings are currently closed.