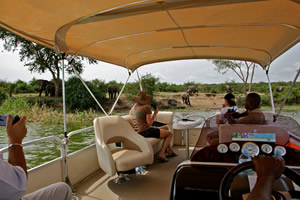 Looking for an adventure safari in East Africa? We offer discounted safaris in Uganda, Rwanda, Kenya and Tanzania. These trips are offered by several tour operators and are available all year round at very competitive rates.
Top Safari Offers

1. Exclusive Uganda-Rwanda Safari Gorilla Tour 14 Days Safari to the very best destinations of Uganda and Rwanda engaging you in a wide range of tourism activities which include White Water Rafting, Ngamba Island Tour, Chimpanzee tracking from Kibale Forest, game viewing and wildlife tours in Murchison and Queen Elizabeth National park, boat rides on the Nile, along the Kazinga Channel and Lake Bunyonyi, one of Africa's deepest lakes, Gorilla Trek in Volcanoes National Park as well as visit to Dian Fossey in Rwanda.

2. Exclusive Tanzania Safaris 17 Days Safari in the Mainland Tanzania taking you to the very best safari destinations in Tanzania. These include Arusha National park renowned for its prolific bird life, Mount Kilimanjaro for a mountain trek on Africa's highest mountain, Lake Manyara, Serengeti National Park, Ngorongoro Crater and Olduvai Gorge.

3. The Splendid Group Gorilla Safari -14 Days gorilla trekking safari to Uganda and Rwanda including White Water Rafting, Source of the Nile, Ngamba Islands, Murchison Falls National park, Kibale Forest, Queen Elizabeth National Park, Kyambura Gorge, Bwindi Impenetrable National Park, lake Bunyonyi and its islands, Volcanoes National park and Dian fossey in Rwanda. Safari activities include gorilla tracking, game viewing, boat rides, chimp trekking in Kibale and Kyambura gorge, Boat rides etc.

4- Uganda and Rwanda combined safari -13 Days Tour to Uganda and Rwanda's best national Parks which include Murchison Falls National Park, Kibale Forest National park, Queen Elizabeth national park, Kyambura gorge, Bwindi Impenetrable National park, Batwa local communities, Volcanoes Gorilla Park in Rwanda, lake Mburo National Park and the Source of the Nile. Tourist activities during the tour include game viewing, gorilla tracking, chimpanzee tracking, nature walks, Local community Tours, sight seeing etc

5-Murchison Falls and Kibale Forest Uganda tour – Uganda Safari to the best Primates and Wildlife Parks. Activities during the tour include drive to the Top of the Falls, Game Viewing Tours on the Northern banks of the Nile, Boat ride on the Calm Victoria Nile, Exploration Tour of the Albertine Escarpment of the Western arm of the Great East African rift Valley, Chimpanzee tracking and habituation experience in Kibale Forest, Nature Walks in the Bigodi Wetland sanctuary etc.

6-Kibale Forest National Park Safari -3 Days Chimpanzee Tracking safari to Kibale Forest National Park, home to a remarkable 13 primate species, including the very localized red colobus and L'Hoest's monkey. A network of shady forest trails provides much to delightful experience during the process of tracking the habituated chimps – the delightful apes more closely related to humans than to any other living creature on earth! Other safari activities include birding and nature walks through the Bigodi Wetland sanctuary.

7-Kibale Forest Chimpanzee Tour And Trekking 3 Days Chimp Trek to Kibale Forest, a renowned home to Man's closest relatives – the endangered Chimpanzees. Nature Walks through this elusive forest may also reward you with a chance to see other wildlife such as forest elephants, smaller and hairier than the savannah counterpart, buffalo, giant forest hog, black and white colobus monkeys etc.

8- Uganda Gorilla and Chimpanzee Tour – 9 Days Uganda Tour to Kibale Forest National Park, Queen Elizabeth, Bwindi Impenetrable Forest and Lake Mburo National Park. During the tour, you will engage in a number of tour activities which include chimpanzee tracking, game drives and game viewing tours in Queen Elizabeth and lake Mburo, foot safaris, boat rides etc

Both comments and pings are currently closed.