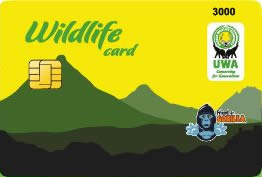 Non residents pay USD $ 600;
East African Citizens pay USD $ 100
Foreign Residents pay USD $ 500
The Gorilla tracking permits are on a high demand that sometimes its advisable to buy your permit atleast one year ahead.Contact your tour operator to advise the situation with the permits.
The cost of the permit includes park fees and guides fees
While Congo gorilla permit is at USD $340
Its strongly advisable to book gorilla permits several months prior to your visit: There are currently four gorilla families habituated for tracking in Bwindi Impenetrable forest national park and these are Mubare(M),Habiyanja(H),Rushegura® and Nkuringo(N)
Only 32 tourists per day are allowed to track gorillas. 24 in Bwindi and 8 in Nkuringo gorillas family on the side of Kisoro.
Gorilla trekking is the most memorable experience you will ever experience in a life time!! By visiting these wonderful primates,you are giving them a chance to live and you are also supporting the surrounding community.
Bwindi Impenetrable forest National park still functions as an important base for international research; biologists come and go, some studying the gorillas, and some focusing on other aspects of the environment and its wildlife. Bwindi is still funded by the "Digit" fund, although it has recently been re-named "The Dian Fossey Gorilla Fund" and also by International Gorilla Conservation Program.
Gorilla tourism is the single most important asset over which Uganda has an absolute comparative advantage compared to other countries. Gorilla tourism provides significant economic benefits to the tourists, Uganda as a whole, the various levels of governments, the local communities, and the Uganda Wildlife Authority. Read more
Click here to Read about Gorilla tracking Rules Here.
To inquire on the availability of a gorilla permit contact the Uganda Wildlife Authority or contact the local Tour operators doing Gorilla trekking in Uganda,Rwanda and Congo
You may also like:
Both comments and pings are currently closed.