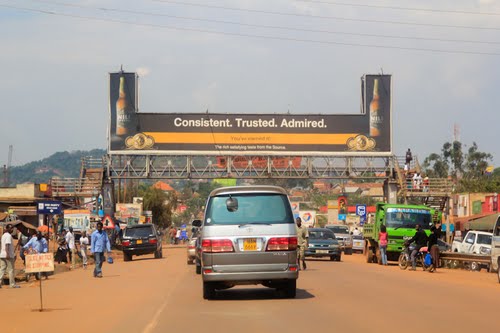 Formerly part o Mpigi District, it came into existence in 200, when the 3 counties of Mpigi District-Busiro, Kyadondo and Entebbe Municipality became Wakiso District. The people are Baganda and the main language is Luganda.
Location
It surrounds Kampala and boarders Mukono in the East, Mubende and Mpigi in the West, Luwero in the North and Kalangala in the South.
Population
The district has over 562,609 people, 282,887 of which are female and 277,722 are male.
Economic activities
Fishing on Lake Victoria, poultry feeds, Agriculture with the emphasis on Food crops like Sweet potatoes, Beans, Cassava, G-nuts, Irish potatoes and Soya beans. Cash crops include; coffee and cotton. Fruits and Vegetable area also widely grown such as Tomatoes, Onions and cabbage.
Education services
The district has a total of 567 primary schools with 246 government, 257private and 64 community schools. For secondary schools, the district has over 139 schools, 18 are government, 73 private and 48 community. It also has 1 Teacher training college, 2 Technical Institutes, Nkumba University, Meteorological School and Fisheries Training Institute (Vocational Institutes).
Health services
The district has 19 Government dispensaries (II), 12 health centres (III), 5 health centres (IV)  and 2 hospitals. Private/NGO-20 dispensaries, 58 clinics and 15 health centres and 2 hospitals. Kisubi Hospital, Entebbe Grade A Hospital with 12 beds, Entebbe Grade B with 149 beds, and there a private hospital- Midmay Hospital.
Transport Network
Entebbe has a fair network of tarmac road within the town area and on the road to the network. Entebbe International Airport is the major gate-way by air into Uganda and the journey by road is about one hour to the capital city, Kampala. There is a modern restaurant facility at the airport.
Tourist Attractions
There is Kabaka's Trail which encompasses the most important sites of Buganda's Kabaka's (Kings). Traditional dance, music and craft making are demonstrated as well as story telling.
Entebbe is the former administrative centre and capital of the then Ugandan Protectorate. Colonial Entebbe gives a rich history of old, beautiful buildings like the Ministry of Agriculture building which still has the inscription 1927.
The Botanical Gardens are a popular picnic and swimming spot. Different plant species from all over the World can found here.
There is also Uganda Wildlife Education Centre (UWEC) with an information centre, a gift shop and Kiosks. A pair of rare shoebill can be found here.
Ngamba Island with tropical rain forests is a Chimpanzee sanctuary and Wildlife Conservation trust.
Bugala Island is an up market sailing and water sport resort on Lake Victoria.
Spot fishing take place on Lake Victoria hence home to the Nile Perch.
The Namugongo Martyrs Shrine is located about 12km out of Kampala off Jinja road. This is the site of were 37 Christian converts were burnt to death on orders of Kabaka Mwanga on 3rd June 1886. On the visit of Pope Paul VI to Uganda in 1969, the martyrs were canonized and since then the shrine has become an important site for Uganda Christians and Tourists. There are two churches built at the site, one for the Roman Catholics and the other for the Anglicans. The 3rd of June is a public holiday in remembrance of the Uganda Martyrs.
You may also like:
Both comments and pings are currently closed.