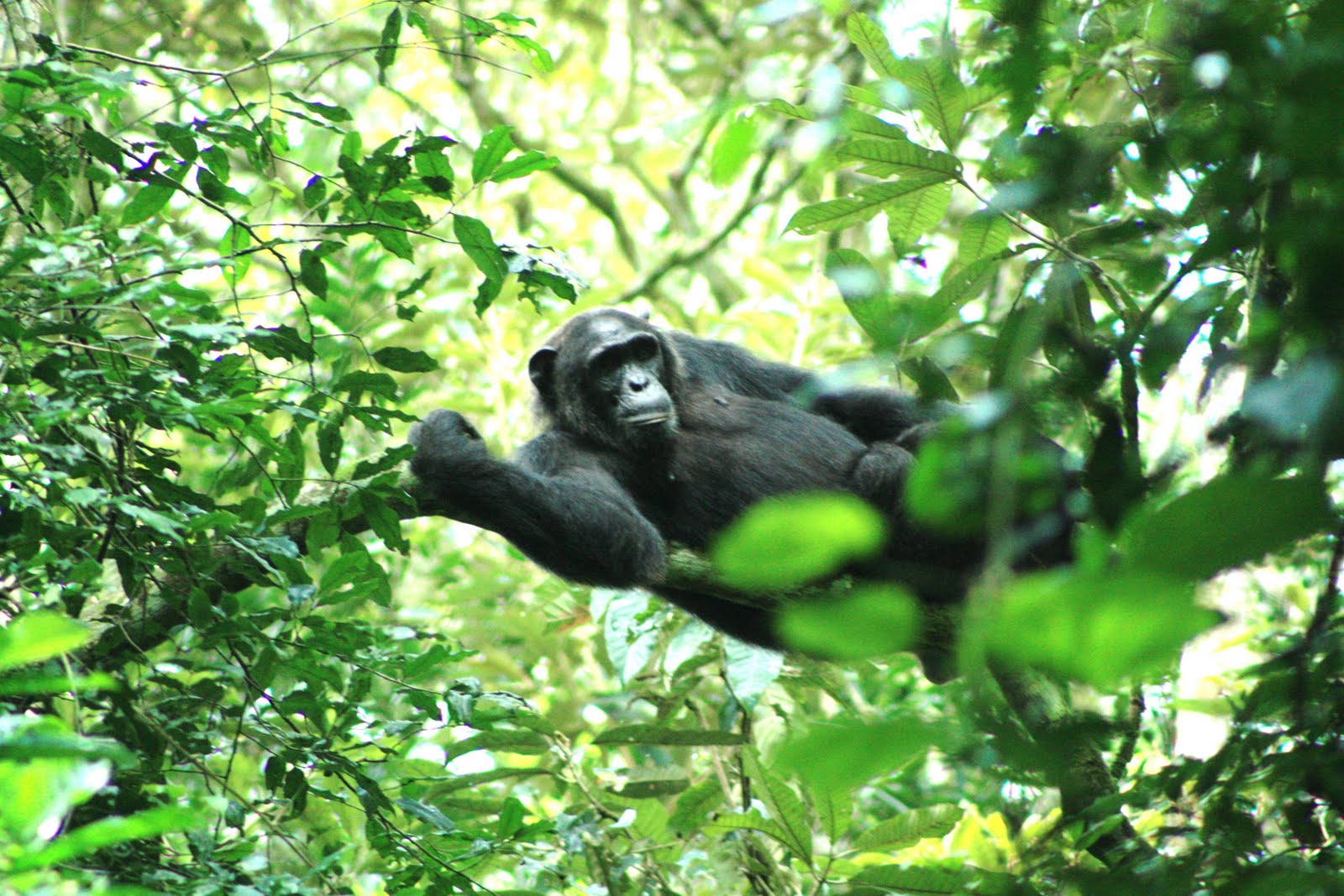 This forest has one of the richest ecosystems in the whole of Africa. It contains over 340 birds species, 14 species of snakes, 27 species of frogs and toads, at least 20 species of other reptiles and at least 200 species of butterflies. Other animals to be seen here include: chimpanzee, elephant, bush pig, giant forest hog, bats and rodents, etc.
Kibale National Park is a primatologist's dream. It hosts a population of more than 1,000 chimpanzees, of which one 80-strong community has been habituated to tourist visits, as well as half-a-dozen readily observed monkey species, including the acrobatic red colobus and black-and-white colobus, and the handsome L'Hoest's monkey.
A fairly new park,Kibale in essence is a migratory route and corridor between Queen Elizabeth National park and parks to the north such as Murchison Falls National Park.Probably the most accessible of Uganda's large forests it is home to an extremly large diversity of flora and fauna and secret trails,within it's recesses,pounded by generations of elephant,giving credit to old wives tales of 'elephant grave yards' and big tusked,solitary bulls.Chimpazee groups have been habituated and can be visited with relative ease.Accommodation is available at near by Ndali Lodge as well as inside the park.
The most accessible of Uganda's major rainforest. Kibale is home to a remarkable 13 primate species, including the localized red colobus and L'Hoest's monkey. Kibale's major attraction, however, is the opportunity to track habituated chimps, these delightful apes, more closely related to man than to any other living creature, are tremendous fun to watch as they squabble and play in fruiting trees. A network of shady forest trails provides much to delight botanists and butterfly lovers, while birders are in for a treat with 335 species which include the endemic Prirogrine's.
With lush tropical rainforest and fascinating diversity of animals, Kibale National park is one of the most beautiful and stunning forests in Uganda. Kibale forst is certainly worth protecting as it is home to the largest number (in Uganda) of chimpanzee, as well as the THREATENED red colobus monkey and the rare I'Hoesti monkey. The forest has one of the highest diversity and density of primates in Africa totaling 13 species including the blaack and white colobus, blue monkey and grey – cheeked mangabey, red tailed monkey, bush babies and pottos. The park also hosts over 325 species of birds including the yellow spotted nicator, yellow rumped tinkerbird, little greenbul, green breasted pitta, the African pitta, the crowned eagle and the black bee – eater.
Primate Walk
the ancient rainforest is the home of roughly half of the world's mountain gorillas. Looking deep into the expressive brown eyes of the gentle giants is surely the most exciting wildlife encounter in Africa. This national park has 90 mammal species including 11 primates, and the prominent black and white colobus, with its lovely flowing white tail.
The forest birding ranks best in Uganda with 23 highly localized Albertine Rift endemic present. The activities include Chimpanzee tracking as the main attraction and permits must be booked in advance. Also available are guided forest walks, one popular trail leads to a pretty waterfall and others focus on birding and monkey viewing.
Kibale can also be an Add on your gorilla tracking safari itinerary as you head to Bwind national park
You may also like:
Both comments and pings are currently closed.