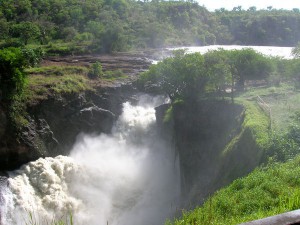 Uganda's largest national park protects a portion of wild African savannah separated by the impressive river Nile.
It is named for the magnificent Murchison Falls, where the world's longest river burst out ferociously through a narrow gap in the Rift Valley escarpment to fall into a frothing pool 43m below. This park protects intense populations of lion, elephant, buffalo, and Uganda kob together with the localized Rothschild's giraffe and patas monkey. Massive concentrations of hippos and birds can be observed from the launch trips along the Nile below the fabulous waterfalls for which the park is named.
Location:
North Western part of Uganda, 90kms from Masindi.
Size:
3840 sq Kms
What to see:
Giraffe, Lions, Antelope, Elephant, Uganda kob, Leopard, Buffaloes, Hartebeest, Oribis, Chimpanzees, and birds like the rare Shoebill.
Getting there:
By road: from Kampala through Masindi (via Kichumbanyobo gate), Paraa is a 4 and a half hours drive, 2 hours on tarmac and 2 and half hours on Murram roads.
By Air: Bugungu airfield is situated only a few kilometers from the park headquarters at Paraa on the Southern side of the River Nile to cater for the tourists staying at Nile Safari Camp, the Red Chili Rest Camp and Sambiya River Lodge. There is also Pakuba airfield which is situated on the North bank providing access to Paraa Lodge.
What to do:
Launch trips to the base of the falls offer fine game-viewing and bird watching. Boat trips to the Lake Albert delta provide the best chance in Africa of sighting shoebills. Chimp tracking at Rabongo Forest, and en route from Masindi in the Budongo Forest. Game drives on a good network of roads.
When to visit
: Any time of year.
Where to stay:
There are 2 up market lodges and a simple but comfortable camp run by Red Chilli. Camping is allowed in selected locations
SAFARIS TO MURCHISON FALLS NATIONAL PARK
Several tours and travel companies in Uganda offer several vacations to Murchison Falls National Park. These include
Adventure Trails – Click here for their Uganda Safaris
Abacus African Vacations – Click Here for safaris and tours offered by Abacus African Vacations.
Africa Adventure Safaris – Click here for their Uganda safari packages but also offer other Uganda Tours.
You may also like:
Both comments and pings are currently closed.