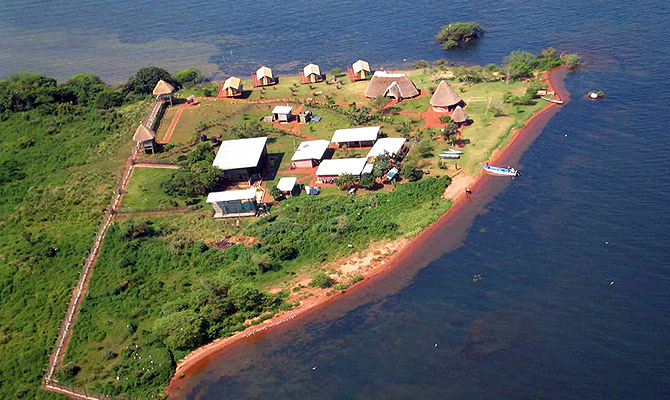 Ngamba I Island is one of the many Islands found in Lake Victoria under Koome group of islands, they include; Kiimi, Nsadzi, Koome, Bulago and Damba Islands. The Island is located East of Green which melidean on the latitudes of 0.06'S, 32.39'E. The sanctuay settles on driy ground of 100 acres of land with the 98% of the land is covered by forest in which the chimps hunt and forge for food.
The Santuary was started in 1998 by a non-profitable called Chimpanzee Sanctuary and Wildlife Conservation Trust (CSWCT) with the aim of protecting and conserving Chimpanzee in Uganda that had been pushed to the edge of extinction by human factors such as poaching deforestation and some where being tamed as domestic pets.
Presently Ngamba Island (Chimp Sanctuary) is the largest known chimpanzee sanctuary in Uganda receiving visitors throughout the year. There are accommodations on the Island for the visitors separated from the Forest by an electric Fence. There are a number of activities that can be done by visitors to the Island the include Care giving where visitors get involved in the days work of feeding chimps and cleaning, Fishing, Bird watching and Sunset cruise on the lake.
The other Islands are occupied by finishing villages. An over night stay at the Ngamba can also provide enough time to pay a visit to some of these Islands.
Chimpanzees have a constant medical check up to ensure that they are healthy. It should be noted that since they have a limited space on the Island they are not allowed to reproduce and thus they are put on a family planning methods of birth control. When the Island reach its carrying capacity, some of the chimps are re-introduced in the wild to control their number, Some of the places where re-introduction is done include Kibale Forest, Budongo Forest and Kyambura gorge where already chimps exist in the while. Most of the members that are take for re-introduction are mainly females because they are easily absorbed into the group than males. The Chimpanzees that are brought to Ngamba Island are mostly resecured from poachers or orphaned babies.
You may also like:
Both comments and pings are currently closed.