THE SECRET BEHIND UGANDA'S MOUNTAIN GORILLA TOURISM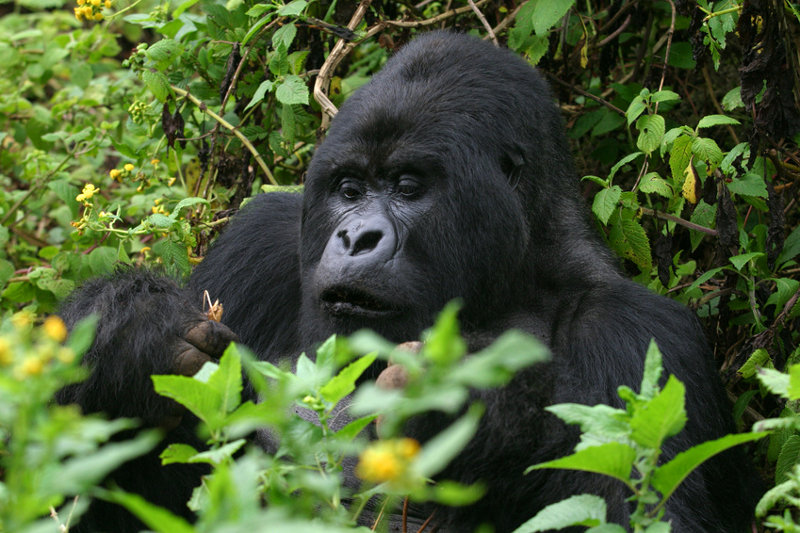 Mountain gorilla tourism in Uganda is the best tourist project, receiving the highest number of visitors coming into the country watch gorillas in the jungle. Blessed with variety of wildlife, primates and nature, The Perl of Africa strongly relies on gorilla tours as the highest income earner for the Ugandan government. Home to two national parks sheltering mountain gorillas – the Bwindi impenetrable forest estimated to have over 450 gorilla species with 13 habituated gorilla families and 2 other available for gorilla habituation experience, Mgahinga national park is home to 1 habituated gorilla family.
Gorilla tourism in Uganda dates far back to the 1990's when the first gorilla family was habituated and opened to the travelers. Since then several gorilla families have been habituated and tourism is growing at a rapid rate.
All together, Uganda comprises of the highest number of mountain gorillas comparing to the other to mountain gorilla destinations of Virunga national park in Congo and Volcanoes national park in Rwanda.
Uganda Gorilla families
Presently, there are 13 habituated gorilla families in Uganda 12 residing in Bwindi impenetrable forest national park and 1 in Mgahinga gorilla national park. The families in Bwindi are split in four sectors of the national park and they include Buhoma, Rushaga, Ruhija and Nkuringo. The families include Habinyanja, Mubare and Rushegura in Buhoma sector, Oruzogo, Bitukura in Ruhija, Nkuringo in Nkuringo sector and Mishaya, Nshongi, Bweza, Busingye and Kahungye in Rushaga sector of the national park. Nyakagyezi is the only gorilla family in Mgahinga gorilla national park. The family used to cross over to the neighboring Democratic republic of Congo but has presently settled in Mgahinga available for trekking.
In both Bwindi and Mgahinga, a gorilla family is allocated to a group of eight people maximum who interact with the gorillas for an hour maximum.
Gorilla permits
This is a must have for every trekker. A mountain gorilla permit are issued by Uganda wild life authority (UWA) responsible for wildlife in the country and they are accessible through any trusted tour company. A Gorilla permit costs 600 USD in the peak season from June to September and then December to February. However, the costs are cut to 450usd in the low season to encourage continuous visits. This is an advantage to low budget travelers who can gain the same gorilla trekking experience but at low costs.
The permit must be booked in advance at least 3 weeks before the gorilla trekking safari date, 30% of the total cost is paid as booking fee.
Follow guidelines
Mountain gorillas are the close relatives to human beings sharing over 99.8% of human genes hence susceptible to human diseases. In order to prevent the spread of these infections, gorilla trekkers are encouraged to keep a distance of seven meters ad turn their backs when sneezing or cough. In addition to that, trekkers are not supposed to feed the mountain gorillas in any way.
Dressing code
It does not mean dressing in suits but appropriately for the forest. Mountain gorilla trekking entails hiking through the dense forests with slippery grounds, ground insects, undergrowth and swinging nestles among others. Also, the weather in the forest cannot be predicted meaning that it can rain at any time of the day despite the season. Travelers are therefore reminded to put on hiking boots, rain gears, hand gloves, long sleeved shirts ad panties, hats and jackets among others.
Best time to trek
Although gorilla trekking can be done at any time of the year, the dry season is the best time to trek. The grounds become slippery and the rain droplets and mist become too much in the rainy season making the hiking quite difficult. However, mountain gorillas remain at low altitudes during the rainy season for warmth, which makes them easy to find hence, shortening the trekking time.
Conclusively therefore, mountain gorilla trekking is a lifetime experience that every travelers should enjoy. Uganda is the best destination offering a memorable experience and travelers should therefore visit the destination for a wonderful experience.