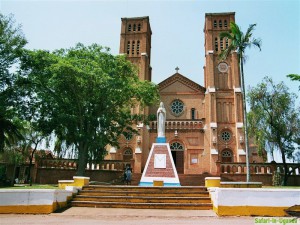 Rubaga which also rises to 4,134 feet above sea level, is adjacent to Mengo and together with Namirembe form a triangle around which Uganda's politics and religion have rotated. "Rubaga" is derived from the Luganda word "kubaga" which means "to plan". It is claimed that it is this hill that Buganda generals planned their wars.
Before Mengo became the seat of the Buganda kingdom, the seat was at Rubaga but, during the reign of Muteesa 1, lightening struck the palace forcing him to shift to Mengo.
When the missionaries arrived in Buganda, the kings made sure they allocate them different places to avoid conflicts among their followers.
So the Catholics or Wafaransa as they were called (Pierre Simeon Lourdel Monpel and Brother Amans, the first Catholic missionaries to arrive in Buganda were French), were allocated land on Rubaga hill while the Anglicans were put on Namirembe hill.
Today Rubaga is the seat of the Catholic Church. Near the cathedral is the residence of the cardinal and on the other side is Rubaga Hospital.
Down the hill, near Kabuusu is a home for the elderly. The first black Archbishop south of the Sahara, Joseph Kiwanuka (he became bishop in 1939) and the country's first cardinal, Emmanuel Nsubuga, are buried here. Further at the base is the Pope Paul VI Memorial Hall, next to the Kabaka's lake.
.
You may also like:
Both comments and pings are currently closed.